Awards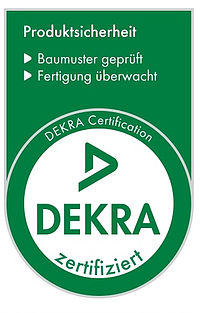 Our devices have over the years been awarded the DEKRA certificate. We are the one of the only competitor safety have been shown to provide external, recognized quality check on the market. Both production have been carefully examined, and the various jump starter every performance category. We guarantee an accident-free handling of our equipment with proper use.
In addition, our equipment meet as one of the few on the market, the requirements of the Federal Cooperative traffic. These instructions are intended to prevent accidents. Our booster comply with the directives of BGV-A3 and BGR 157
With our equipment of the premium class you have not only superior, unparalleled starting power but also paired with the utmost security. We provide them with the essential cornerstone for a professional handling the Start Help section. Only with us you are in any way on the safe side.
The safety of our equipment is ensured by various devices:
controlled venting of gases through a tube system and structural measures on the casing provide dual safety
Reverse polarity monitoring in semi-automatic equipment which displays a polarity reversal by a LED lamp
Reverse voltage protection with automatic equipment by electronics, so that they turn off automatically
Short-circuit protection
3 steps regulated charger switching technology, will not overcharge the battery in the boot device available
electronics protection
This devices ensure a safe handling in which the booster and the person is always protected.